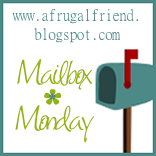 So this time is was a stack of magazines! I wanted to point out to anyone looking for a free body and soul subscription that I actually used my coke rewards to get that. There is also a free sample from philosophy and a nice package of stuff from Beingirl.
On a different note the houseparties went well this weekend. I think everyone had a good time and enjoyed the Green Works samples. We didn't have a chance to 'play' with Windows 7 so I think I'm going to have another smaller get together to go through it.
In regards to tips about being selected for houseparty I can only say be honest. My first party was a Splenda party and the second was the Green Works and I was honest in the survey process that I didn't know that much about either products and what I did know wasn't positive. (Being Splenda always tasted bad to me and Green Works was a Clorox company jumping on the green bandwagon.) That being said, I have NO IDEA why or how I got to be a Windows 7 host other than my self proclaimed lack of computer knowledge. Maybe they select people who 'know' about a product but don't have extensive knowledge of it. Which would explain why my admission to being an avid crafter DIDN'T get me selected as a Martha party host, bummer!