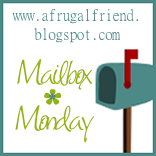 I was gone for a week for a work conference but what a nice surprise it was to find all this waiting for me! Really the magazines are for the hubby and while the
Secret
,
Lever 2000,
Nature Valley samples
and
coupons
are wonderful they pale in comparison to what else was waiting for me! Windows 7!!!!!
The Windows 7 party will be my third through
Houseparty
and all I have to say is, "If you aren't on this site go there now!" As you can see from the pictures with this most recent party I received an awesome poster with streamers, balloons and napkins for the party, a puzzle, playing cards and super great reusable bags! Oh yeah I also got two versions of Windows 7 ( a 32 bit and 64 bit). I'm combining this party with another houseparty and my son's birthday party for a ton of fun all in one fell swoop! Saturday will be a very busy day at our house!